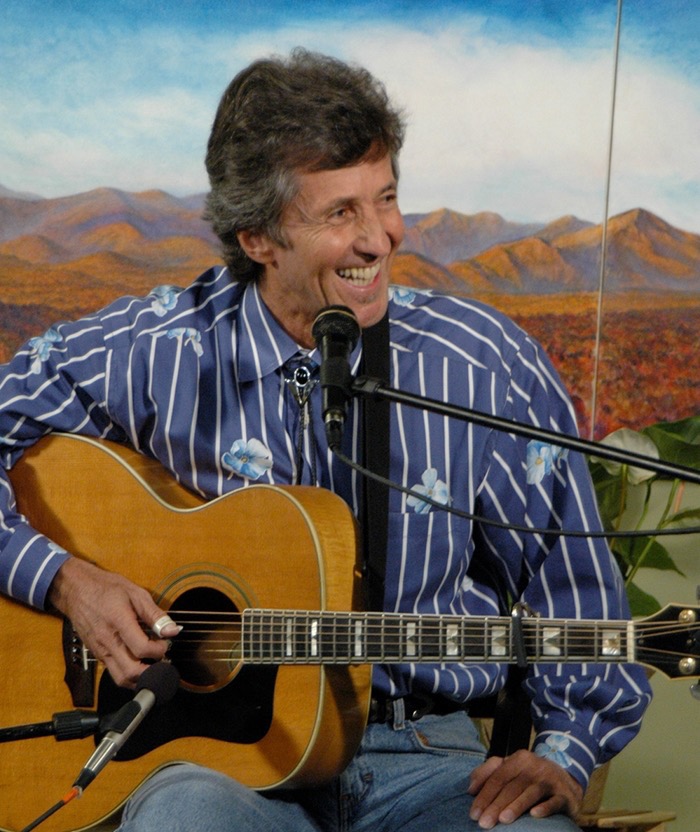 Hosting a Climate Gathering in your home, meeting place or at a participating venue with singer/songwriter, Ian Booth, is a great way to help the Asheville region become a climate change leader, and to have a good time. Get together with old and new friends and enjoy some good music, stories, occasional guest musicians, and interesting information when Ian presents a short introduction to lifestyle equilibrium.
It's easy and fun to host a Climate Gathering. It's just like hosting a house concert! Lots of families and groups around the country host house concerts regularly.
Here's what you can do:
First, contact us to arrange a date.
Next comes your guest list. Here's what you can expect at the concert. It is helpful to mention to prospective guests that house concerts typically attract focused audiences of music lovers. This is where selectivity in making out your guest list comes in. "Partiers" may not do well at a house concert. Many hosts include information about house concerts in their invitations. This helps minimize distractions for those who are there to enjoy the music and the banter from the "stage," and insures that all guests have a quality experience. Most of the socializing usually takes place during the break and after the concert.
We can provide a PDF that you can attach to an email to use as an invitation, or create an invitation of your own. You can personalize it to your taste and send it to your friends, neighbors and co-workers. It's a good idea to ask guests to R.S.V.P.
Nuts and bolts:
We'll ask you to do your best to guarantee a minimum of 25 guests at a suggested donation of $15 per person to cover the event. On the other hand, some hosts who really want to jump in, offer to cover the concert expenses themselves and take a more casual approach to the $15 suggested donation. If you prefer some other financial arrangement, we're happy to consider that too. Ian will mention during the concert that contributions to Climate Now are greatly appreciated. A card reader for direct contributions will be available.
Out of repect for non-smoking guests and musicians, house concerts are usually non-smoking affairs. It is important to have a designated smoking area for those who would like to smoke.
Some hosts like to have a potluck dinner before the concert, which is great, but musicians often need to save their voices and energy before playing. The best times for the musician to socialize with guests are during the break and immediately following the concert. It's also helpful to provide an easily accessible place to put out CDs, literature, light merchandise in some cases, and "the pot" for tips or financial support.
Here are some examples of room set-up at other house concerts. If at all possible, it is best to place the musician in the least-traveled part of the room to minimize distractions when guests visit the bathroom, etc. Remember, musicians need a little bit of room for equipment and access to electrical power. Guitarists sometimes need a stool or a simple chair without arms.
Some hosts ask guests to bring a folding chair and some borrow extra chairs from the church, etc.
That's pretty much it! Thank you so much for your interest and for your willingness to join us in providing an enjoyable and valuable experience for your friends and other music lovers!