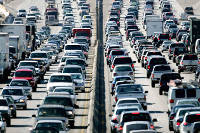 Today across America, families and communities are recognizing the need for a fundamental change in the way we go about our daily lives. They point to growing economic, social and even mental health challenges among others. Scientists, in the meantime, are seeing a rapid decline in the health of our global life support systems including our climate, our groundwater, biodiversity, oceans, forests and more. In short, "unless we change our direction,
we're likely to end up where we're headed."
Climate friendly living is not just about climate. It offers a way of living and working that meets today's needs without causing harm to the environment, to other people or to future generations. It is durable, economically balanced, vibrant, healthy and satisfying to the human spirit. Climate friendly living uses techniques and technologies that are widely available today to revitalize our communities and our lives. It can help assure that we and others eat, drink, work, play, shop, travel and in general live and prosper in an enduring manner. It offers a practical gateway to an economically secure and environmentally sound future.