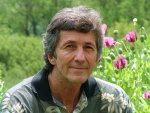 Hello, I'm Ian Booth, founder or Climate Now. Since I'm not a climate expert, you might wonder why I'm working on climate change. The answer is simple. I have friends who are climate scientists, and they have made it clear to me that reversing climate change is profoundly urgent, and that it's going to take everything we can do. I'm doing what I can to help, and I hope you will join me.
The non-profit Blue Ridge Institute has partnered with Climate Now to promote this model program that can enable families and communities to directly respond to climate change. Using Asheville, North Carolina and four surrounding counties as the prototype area, we are developing tools like this deep-content retro designed website, presentations, live events, webcasts and broadcasts that showcase the techniques and technologies for reversing climate change through lifestyle equilibrium. Musicians are joining us in reaching out to the community with actionable information about local products, services and know-how that can help reverse our climate impact, make our lifestyles more secure, and strengthen our local economy. As we build a base of support, Climate Now will work with others to create a network that has the tools and training to turn their own communities into climate change leaders.
Here's what you can do:


If you have a locally owned business with products and services for the low-impact use of energy, transportation, water or food, register today. Climate Now will host your information free of charge in this easy-to-use directory of local resources for lifestyle equilibrium and climate response. Once you have registered, we invite you to join the community Lifestyle Leaders. As a Member, you can post videos to share your know-how with all of us, and you'll get the attention of carefully targeted customers.
Everyone else, please come often to this online community meeting place. We are working to make Climate Now a trusted source of information and community-building, so tell your friends about us. Together we can spread the know-how of lifestyle equilibrium and climate response throughout communities nationwide.
Special thanks to Chris Dale who has donated his time and talent to write the code that enables this interactive Climate Now website to function. Salute!
Thank you for your support!
Ian Booth