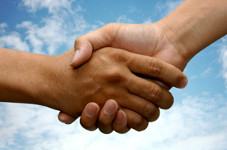 If you are registered with Climate Now, you can become a member of the Community Climate Team beginning in late 2017. You'll be helping Climate Now support this important community resource and you'll have access to features that are only available to members:
1. Post a video on your Contact Information page. It can be a video of your appearance on stage at Climate Mondays, or a self-produced video from a smart phone or other digital camera. This will add a personal touch and a clear message to your contact information.
2. Your name will stand out in bold on every contact list, like A Member Demo.
As funding permits, other features like posting how-to videos in the local knowledge section will be added. We're working to make this Climate Now website a strong, effective and affordable promotional tool that reaches the local community. Your membership support will help us to maintain and promote this important community resource.
Thank you for helping make our community a climate change leader and for helping relocalizing our regional economy.