Rapid growth in western North Carolina in recent years has brought benefits, but it has also brought challenges. These include sprawl, habitat loss and a scarcity of affordable farmland. Today, residents and planners are beginning to rethink the mountain area's relationship to land use, and to ask important questions about how to respond to accelerating change. To support this process, a diverse group of regional thought leaders came together for the Four Futures for Mountain Farmland Symposium at Warren-Wilson College. They spoke on sensitive issues related to agriculture, development, innovation and conservation. The Old Coggins Farm, which adjoins the Warren-Wilson land, provided a classic case study. Each of these presentations was edited into a video series designed to provide the tools to help prospective buyers, land owners, planners, farmers, neighborhoods, developers and others think carefully about mountain farmland and other land-use issues that are essential to building a sustainable, resilient community.
Rethinking Sustainability and Land Use in the Mountain Area

Welcome: Ian Robertson, Dean of Work at Warren-Wilson College
Ian Robertson gives a warm welcome and speaks about Warren-Wilson College's ongoing commitment to land stewardship in the Swannanoa Valley.
Part One: Keynote Speakers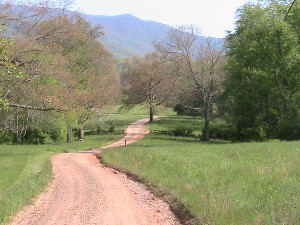 Keynote 1: Ian Booth - Sustainable Now
Ian Booth, founder of Sustainable Now, speaks about mountain farmland and sustainability. "Today we hear a lot of projects being called 'sustainable,' but is the emperor wearing any clothes?"

Keynote 2: Lalita Booth - MPP, MBA, CEO of Navitome
The Inclusive Wealth Formula: Lalita Booth presents an innovative structure for thinking through land use and public policy.
Keynote 3: Becky Anderson - Anderson Consulting
Yestermorrow: Economic development consultant Becky Anderson talks about the role of historic and natural treasures in our mountain heritage and our economic future.
Part Two ~ A Case Study: Four Land Use Options for the Old Coggins Farm

Introduction: A Brief History of the Old Coggins Farm
Ian Booth introduces a sense of place by giving a brief account of the farm's history over the past 200 years, as told by a family member who has lived on the farm since 1979.
Agriculture:

John Swann - ASAP Board Member (Appalachian Sustainable Agriculture Project)
Based on over 30 years in the food industry as a farmer, producer and grocer, John Swann speaks about relocalizing the food supply for quality, security and for the climate.

Cameron Farlow - Farmlink
Cameron Farlow talks about the shortage of mountain farmland and about Farmlink's program to support new farmers: the challenges of getting farmers and farmland together.

Dylan Ryals-Hamilton - Integrated Land Use Designer
Permaculture designer Dylan Ryals-Hamilton takes a lively look at a sustainable agriculture design for the Old Coggins Farm and focuses on strategies that are suitable for the North Carolina mountains.
Development:

Harry Pilos - Delphi Development
Understanding the who, what, when, where and how of real estate development: does your proposed project have a good chance of success in the current market?

William Tama Dickerson - Idylwood Properties
"I have both an ugly baby and a beautiful baby." What we've learned from our earlier development projects and how it affects our current plans for farm development.
Innovation:

Lalita Booth - MPP, MBA, CEO of Navitome
Private Equity Meets Public Policy - Thinking through the challenges that arise when private decisions have far-reaching impacts on others: a collaborative model for thinking through the implications of private economic transactions like the sale of farmland.
Conservation:

William Hamilton - Southern Appalachian Highlands Conservancy
The environmental, economic and social considerations of putting farmland into conservation, and how the conservation math works for the Old Coggins Farm.

Tikkun Gottschalk, PA - Deutsch & Gottschalk
A quick overview of real estate law: Understanding the benefits and constraints of current law and how it can limit a community's options for protecting farmland from unwanted development.
Part Three ~ Current Proposals for the Old Coggins Farm

Lalita Booth - MPP, MBA, CEO of Navitome
The Gaia Verde Strategy: An innovative mixed-use proposal for the Old Coggins Farm that gives balanced value to community, ecology and economy.
Conservation: Coggins Conservation Project