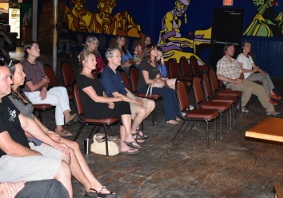 Climate Mondays are the first and third Mondays of every month! There is no charge, so join us on November 6 at the Grey Eagle Music Hall in Asheville when we return with live streaming to an online audience. Starting at 5:00 PM you can sign up to speak, so be sure to register in advance with Climate Now.
We'll play a little music beginning around 5:30, then at 6:00 we'll start live streaming. After our pre-scheduled interview guests, we'll have time for as many people on the sign-up list as we can accommodate before 7:00 to come to the stage and tell us about your energy, transportation, food, shelter, lifestyle, scientific or other idea to help reverse our climate impact. We'll welcome you to the onstage mic, or if you prefer, you can be interviewed by our MC, Ned Ryan Doyle, longtime radio host of Our Southern Community. Everyone who signs up will get a complementary beverage from this week's sponsoring brewery or cidery.
You can tell us about your service, product, call to action, home, entrepreneurial project, whatever. (Sorry, no solicitations for financial support.) The online audience can get all of your contact information here to follow up and get involved too. Together we'll make the Asheville region a climate change leader!
Your support is the key to keeping Climate Mondays going, so please donate now! We sincerely appreciate your help.
The Grey Eagle's free open mic with host, Rob Gardner, follows Climate Mondays around 7:15 and you're sure to enjoy that. You could even sign up and perform! Hope to see you there!
Ian Booth, Program Director